Jasper High School
Class Of 1993
In Memory
Jonathan Reyling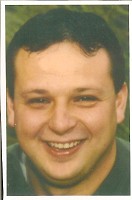 Jonathan J. Reyling age 33 of Holland passed away at 7:41 A.M. Tuesday January 1, 2008. He was born July 3, 1974 at Huntingburg.

He was a member of the Dubois County Builders Association and a JHS Graduate of the Class of 1993.

Surviving:2 daughters-Cassidy and Courtney Reyling both of Holland IN.
1 stepdaughter-Katelyn Sizemore of Huntingburg
his parents Thomas and Theresa (Fleck) Reyling of Jasper
1 brother Andrew Reyling-U.S. Army Iraq
2 sisters-Mrs. Jarrett (Heather) Kahl of Fishers IN and Katie Reyling of Jasper
Maternal Grandmother-Phyllis (Kinder) Flick of Huntingburg
Preceded in death by Paternal grandparents-Maurice and Mary Reyling, and Maternal grandfather-Paul Flick

Visitation will be held from 2:00-8:00 P.M. Friday January 4, 2008 at the Becher & Kluesner Downtown Chapel in Jasper.

Funeral service will be held at 9:30 A.M. Saturday January 5, 2008 at St. Joseph Catholic Church in Jasper with burial to follow at Fairview Cemetery in Jasper.

Memorial contributions may be made to: Springs Valley Bank and Trust Memorial Fund for Cassidy and Courtney Reyling.